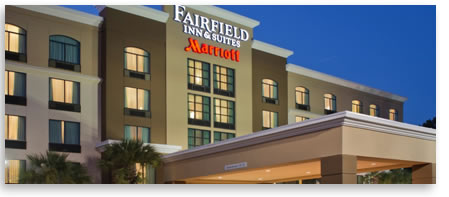 THE ISSUE
In 1988 key members of Corinthian Development Company's current executive team were engaged to make a strategic decision to enter the "economy" hotel market throughout the United States. The five executives, all now members of Corinthian's management team, were put in place to analyze the "economy" market and create a design concept and roll out program to make Fairfield Inn the premier economy product in the industry.
THE PROCESS
Establish the brand
Analysis of competition
Focus group testing
Evaluation and contracting with all consultants
Conceptual design, exterior, interior, landscape and graphics
Establishment of roll out program and schedule
Analysis of operating program
Creation of Fairfield's Score Card system for guest evaluation
Systemization of site evaluations and site planning
Creation of sample rooms
Budget and schedule analysis and tracking
Fee analysis
Design and Construction management
THE PROGRAM
Establish annual budget and roll-out schedule
Build 25 Fairfield Inns per year
Establish changes required by geographic region
Lower costs on a per project basis through establishment of standards, consistent consultants, repetitive drawings, construction techniques and bulk purchasing
Evaluate completed properties to accumulate data for the next design generation
Establish Fairfield Inn & Suites Brand marketing program
Creation of Fairfield Inn & Suites Franchisee program
THE RESULTS
Created the most consistent economy,"select service" hotel
Grew the brand to the largest in the new wave of the select service segment to 700 properties
Created the benchmark to be emulated by all other economy brands
Attracted the best, most experienced franchisees to develop properties
Generated strong net income and enhanced the presence of the Brand
Completed over 62,000 hotel rooms
RevPAR CAGR of 4.3% from 2004 – 2012, highest among Marriott focus service brands
ADR CAGR of 4.2% from 2004 – 2012, highest among Marriott focus service brands
Created an brand with operating margins in excess of 35%
Projects are representative of work performed by Corinthian and ADMI employees under Corinthian Development Company or ADMI as well as with prior employers.